Yesterday I was watching Xmen 2 where Kelly Hu portraits the really sweet and likeable Yuriko Oyama aka Lady Deathstrike.
The film progresses very nicely and offers some beautiful Alaskan nature scenery until the obviously women-hating and violent Logan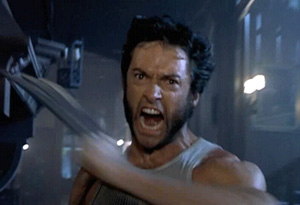 aka Wolverine runs in to Yuriko.
And what does he do? Does he bother to talk to her, find out more about what an intriguing personality she is? Does he ask about how it was like growing up in a patriarchic society where the only way to accomplishing a life for a strong woman is to become some dodgy mastervillains sidekick? Does he even stop to think that behind those razorsharp adamantium claws, theres a woman with thoughts and feelings of her own?
-No, he chooses violence as his direct path of communication. He beats her, throws her into things, drowns her and even stabs her repeatedly. And when realising he cannot kill her with regular means he uses the very obvious sexual assault metaphor of penetrating her with a phallic object and filling her up with somekind of deadly metallic seemen and thereby killing her.
First I was just really sad because the character I liked the most with died, but then I was just angry and apalled that this kind of blatantly misogynistic message is allowed in our day and age. And this isnt the first film where Ive seen this kind of behaviour either.
(topic authors level of seriousness may vary, but still wishes hefty arguments will occur around matter)